On the night of August 8th, 1969, four members of the Manson Family, a notoriously dangerous Californian cult, entered a house on Cielo Drive, where eight-and-a-half-month-pregnant Sharon Tate was staying with three of her friends, Jay Sebring, Abigail Folger, and Wojciech Frykowski, and they murdered everyone in the house.
Quentin Tarantino has always been interested in the ethics of violence, evident both in his movies and in
his interviews about them
. All through his filmography we see examples of revenge (
Pulp Fiction
,
Kill Bill
) and Mexican standoffs (
Reservoir Dogs
,
Hateful Eight
). I'm not going to do justice to the nuance here, but these are essentially forms of retributive violence and mutually assured destruction. From these narratives and their framing of the bloodshed, it's not totally clear whether Tarantino is advocating for these forms of violence or merely examining their harmful effects.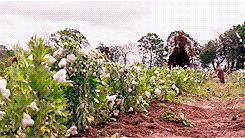 This pattern changes slightly with
Django Unchained
and
Inglourious Basterds
. In both of these films, members of an oppressed minority (blacks living in America and Jews living in Nazi Germany, respectively) rise up against their oppressors. They rebel against their oppression and do violence in turn to those who have done violence to them. Both of these movies still essentially fall into the category of the revenge narrative, with the persecuted class taking vengeance against their persecutors, but the difference here is that it becomes very clear that Tarantino is advocating for these forms of violence. Violence is good when it is an act of resistance against oppression. Killing slavers is good; killing Nazis is good.
In
Once Upon a Time in Hollywood
, this evolution reaches its next stage. At the end of the film, aging movie star Rick Dalton, his wife Francesca Cappucci, his stunt double Cliff Dalton, and Cliff's dog Brandy kill four home-invaders. There are no explicit references to who these four are historically, but the more you look at the details it becomes clear:
- they answer to a man named Charlie, whom we never see except when Tate and Sebring are visited by an unnamed character looking for "Terry," a previous renter of the house and (implied) reference to Terry Melcher, a record producer who denied Charles Manson a recording contract;
- they're led by a man named Tex, analogous to the real-life leader of the Tate Murderers, Tex Walker;
- they even say that their initial mission is to kill the people in "Terry's" house, but they change their mind when one of them talks about her acid trips (the Manson Family were also well known hallucinogenic drug users).
Given this context, we can begin to see that these are the people who were in real life, and presumably would have been in the course of the movie if they hadn't been stopped, the murderers who killed Tate and her friends. Rick, Francesca, Cliff, and Brandy kill the Manson Murderers. While it seems Tarantino is still advocating for this type of violence, it doesn't quite fit into any of the other categories provided by his other movies. It's not exactly retributive violence because the Manson Murderers haven't committed their crimes yet. It's something new: a fantasy of preventative violence. Kill murderers before they can commit their crimes.
I guess now we know the answer to the question whether Quentin Tarantino would go back in time and kill Hitler before he rose to power.
So, what then is the significance of Tarantino's historical revisionism and the erasure of Sharon Tate's murder?
On the surface,
Once Upon a Time in Hollywood
is a story about friendship, about two men in the twilight of their careers and maybe of their relationship; one level deeper than that, it's about an entire generation in its twilight years, about the end of the 60's and the start of the 70's and the way America changed during that time period.
Rick Dalton is on the downslope of his life as an actor, but he's not the only one forced to face the changing times. The whole country is shifting; new people with new values are coming in and replacing the old. Hippies thrive while 50's movie stars fade. Rick is more than a character, he's a metaphor. The one off-hand reference to Vietnam is more than just casual time-period signposting: America's reaction to the Vietnam War was an immense, pivotal point in our history, and more than anything that's what this movie is about: the end of an era and a generation in transition.
What happens if we take Sharon Tate as the narrative center of the film instead of Rick and Cliff? She's the center point of the historical revisionism, after all. Her centrality makes he film more about redeeming a tragic character, about reversing the tragic crime that lead to her death. It's like
Inglourious Basterds
, but about a single oppressed person instead of an entire group of oppressed people. Kill the Manson Murderers so Sharon Tate doesn't have to die. But what if we take this perspective one level deeper: what does it mean to erase Tate's death symbolically?
Insofar as Tate represents the previous generation (she's most closely associated with Polanski, a clear association with these aging actors and a symbol of the past) and the hippies represent the future (with their counterculture movement that would come to reject established social values), this reversal appears as a desire to resist the future and to return to the past. The representatives of the past are the protagonists; the representatives of the future are the antagonists. The hippies are even portrayed as demonic,
"devils sent to do the devil's business,"
and while there's no direct assertion that "all hippies are like this," there also aren't any positive characterizations of the budding hippie movement—it's literally only represented by members of the Manson Family. What if we don't take the movie at its word that hippies are bad; what if we resist its totalizing presentation of the hippies as the root of the problem that led to the Manson Murders?
This is what has been bothering me about the movie: rather than being about a changing of the times and a celebration of that progress, it fixates on one negative instance within this epochal transition, and, in doing so, it expresses a desire for regression.
Once Upon a Time in Hollywood
is essentially a politically conservative film. All I want to do when I watch the movie is side with Pussycat when she screams,
"George isn't blind, you're the blind one!"
but I have trouble doing that given the contextualization of the hippie movement within the film. This is not a film that wants to go forward, it wants to go backward, and when you're playing the righteous anger over the deaths in Vietnam for laughs, maybe you're not on the right side of history.
2019
|
Quentin Tarantino
Special thanks to
Andrew Willis
for talking through some of this with me.